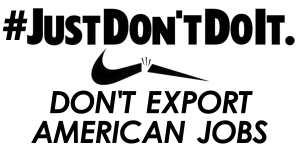 President Obama is visiting Oregon to promote the Trans-Pacific Partnership trade agreement and legislation that would Fast Track the deal through Congress, effectively stripping Congress of its constitutional authority to regulate international trade. Obama will make his pitch at the headquarters of the company that wrote the book on offshoring — Nike. Today, less than 1% of the 1 million workers producing Nike products are in the U.S. In fact, Phil Knight, the founder of Nike, even wrote his graduate school thesis on a business model based on low-wage foreign labor.
Hundreds of thousands of jobs producing Nike goods are already located in Vietnam, where the minimum wage is less than 60 cents an hour. The TPP makes it easier for other employers to move jobs there, and not just in the shoes-and-apparel industry, but in everything from high-tech manufacturing to computer programming. Nike is a perfect example of our lost jobs and low-wage future under the TPP.
Rally at President Obama's Trade Speech
Friday, May 8  *  9:00am
Outside of Nike Headquarters, SW Murray Blvd entrance
Beaverton, Ore.
Click here to check out the Facebook event
Get on the bus in Portland!
Meet at Westminster Church parking lot, 1624 NE Hancock, at 8am. A bus will take us to Nike in Beaverton for the demonstration. Then we'll go to Rep. Bonamici's office for another action. Click here to save your seat on the bus!